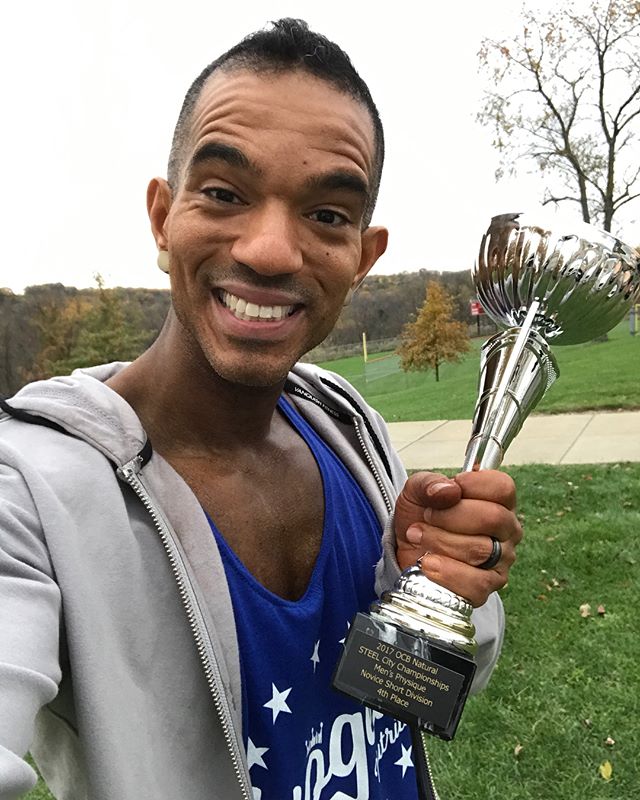 Elite Athlete Spotlight
Thanksgiving is a time to express gratitude, and as Founder/CEO of Evogen Nutrition, I want to say "thank you" to all of our customers.
Since 2008, I've been on a mission to produce an elite line of supplements utilizing only the highest quality ingredients. Since the launch of Evogen Nutrition, I've been so grateful to share my formulas with you. Thank you so much for your support. Additionally, I'm thankful for my team. Not only Jeremy and Lauren, but everyone.
With the launch of evogenelite.com everyone has an opportunity to join the team. I wanted to recognize and welcome Moyses Santana, a recent addition to Team Evogen Elite. Welcome to the Elite Athlete Spotlight!
Moyses is a dedicated athlete whose commitment, passion and engagement with all things Evogen has really stood out to me. After connecting with Luis Montoya of Team Evogen Elite, Santana began using my products merely in an effort to lose weight and live a healthier lifestyle, but as time passed his interest in fitness grew. He recently used Evogen products throughout his contest prep for his very first show early this month. He placed Top 5!
Way to go Moyses we are very proud of you! You can learn more about Moyses' story below as part of our Evogen Elite Athlete Spotlight.
Related Article: Team Evogen Elite Spotlight: Mark "The Shark" Black
Again, thank you all so much for your support, we couldn't be here doing what we love without you guys. Happy Thanksgiving!
Sincerely, Hany Rambod  
MOYSES SANTANA - November, 2017 Thank you very much for accepting my application!! So here is my story with Luis Montoya... Luis Montoya and I became Facebook friends back in July of 2015 for two reasons: 1) we had over 100 mutual friends, and 2) I admired his amazing physique. We used to like each other's posts from time to time, then for some reason his posts began showing up in my feed all the time, which I loved it. He always inspired me to get better. We both started our fitness journeys while we were overweight, and I wanted to achieve his physique.

So, around November of last year I came across one of his videos talking about Evogen Nutrition. He explained the products so well, and he had so much passion about it that it triggered my curiosity. I was using a different brand at that time. I read everything I could about Evogen, Hany, Jeremy and Luis, and it made me wish I was part of the Team Evogen family. In January 2017 I bought my first box of supplements from Evogen: Lipocide, EVP, Cell K.E.M. and IsoJect. In 30 days I noticed an incredible difference in my body, so I ordered the same stack again, but added Carnigen and AminoJect this time. I got hooked for LIFE! In February I came across another Luis video, this time talking about FST-7. Again, I did my research, and came across the Jeremy and Hany Blue Print Ebook. I followed exactly, doing the described routine over and over again on my own until June. But I wanted to have Luis' physique. I asked myself, "How can I achieve that? I need to reach out to him somehow." So, I finally contacted him in July. I told him what I thought about him and Evogen Nutrition. I asked him if he could be my mentor and prep coach. I wanted to compete and become a fitness model. He was the nicest guy ever and said, "Yes brother, let's do this!" We started my prep at the end of July and continued through the end of October. We've been talking almost every day since and we worked hard together all prep. He is all I hoped for and much more, as a coach and as a friend!  I remember over the summer when I told Luis how much I wanted to become part of the Evogen Nutrition Team. Luis told me it was very hard, but not impossible. Just keep being me, work hard and it will come. I told him I would wait and work for it as long as it takes... I've been sharing Evogen Nutrition will all my clients and friends and giving Luis' code to everybody. NOW you have an idea how I felt when I got your email... Luis and Evogen Nutrition have changed my life! I hope someday really soon I get to meet him in person, say thank you and shake his hand. The competition experience was amazing! I competed November 4th at the Pittsburgh OCB Steel City Natural show. This was my first show ever, and I placed top 5 in my class (4th place)!! I was very pleased! My prep was 100% powered by Evogen Nutrition, and I've been using Evogen products since January. That's why I was so happy when you guys approved me to join your team! I've never had this kind of results in my life! Again, this was the first show I've ever been to, so being behind the scenes as a competitor was surreal. The registration process, the testing (to prove I was natural), the professional tanning, the preparation with Luis Montoya, the day of the show, talking and sharing experiences with other amazing athletes, everything was way better than I expected! I'm hooked! I will be competing at least twice a year from now on! I want to become a pro athlete! I also had my very first fitness photo shoot, it was awesome! I had one 10 days out from the show and a second one after, so all my hard work has been properly documented. Now it's time to start my off season, or "gain season" as Jeremy calls it! I'm doing the rebound protocol with Jeremy, the bulk with Jeremy, and then to get shredded I'll begin online coaching with Jeremey next year! In 2018 I'm going for the win!! Evogen Nutrition, Hany, Jeremy and Luis have changed my life forever! I went from a normal guy to a "machine"; I read, train, eat, drink, and breath bodybuilding. I started as a guy who just wanted to get back in shape, and instead went on this crazy fitness journey and got shredded. Now I'm a Men's Physique athlete who made top 5 in my first competition, and I made it on Team Evogen Elite! Next, I'm aiming for my PRO card, then I'm going to climb my way up the ladder with this amazing company! I want to do demos on different locations, I want to work at expos for Evogen, I want to spread the word about Evogen Nutrition, meet Hany, Jeremy and Luis in person, and as many athletes and professionals from Evogen as possible! You guys ROCK!!
  Working towards your own transformation this year? Try out Moyses' supplementation regimen below:
Competition Prep
A.M.
Fasted Cardio
Pre-Workout
Intra -Workout
Post- Workout
Off Season (mirrors prep schedule with the following additions)
Add 1 scoop of
GlycoJect
to pre-workout Increase
Cell K.E.M.
to 2 scoops intra-workout Increase
IsoJect
to 2 scoops post-workout Add 1 scoop
IsoJect
with peanut butter before bed