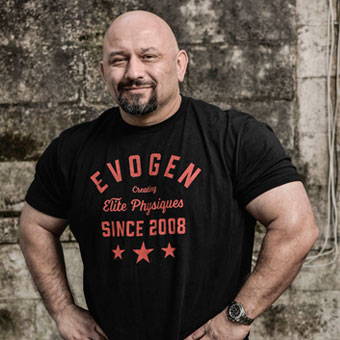 Nicknamed "The Pro Creator," Hany Rambod has been constructing championship-winning physiques for over 20 years. His ground-breaking FST7 system has helped his clients win a total of 20 Olympia titles. Rambod's roster of champions includes Mr. Olympia winners, Ms. Figure Olympia winners, 202 Olympia Winner as well as the current 212 Mr Olympia winner Derek Lunsford.
When Rambod is not busy coaching many of the world's elite, he serves as the CEO of Evogen Nutrition. Putting his Bachelors degree in Biology with an emphasis on Neurophysiology to good use, Evogen Nutrition has been experiencing rapidly growing popularity.
All of its formulations were created for Rambod's elite athlete roster, and only in the past few years have they been made available to the public. Rambod prides himself on bringing only quality innovations to his customers around the world. The formulations within the Evogen Nutrition supplement line are crucial to the success of any FST-7 program because of their effect on growth, repair, and muscle volume.