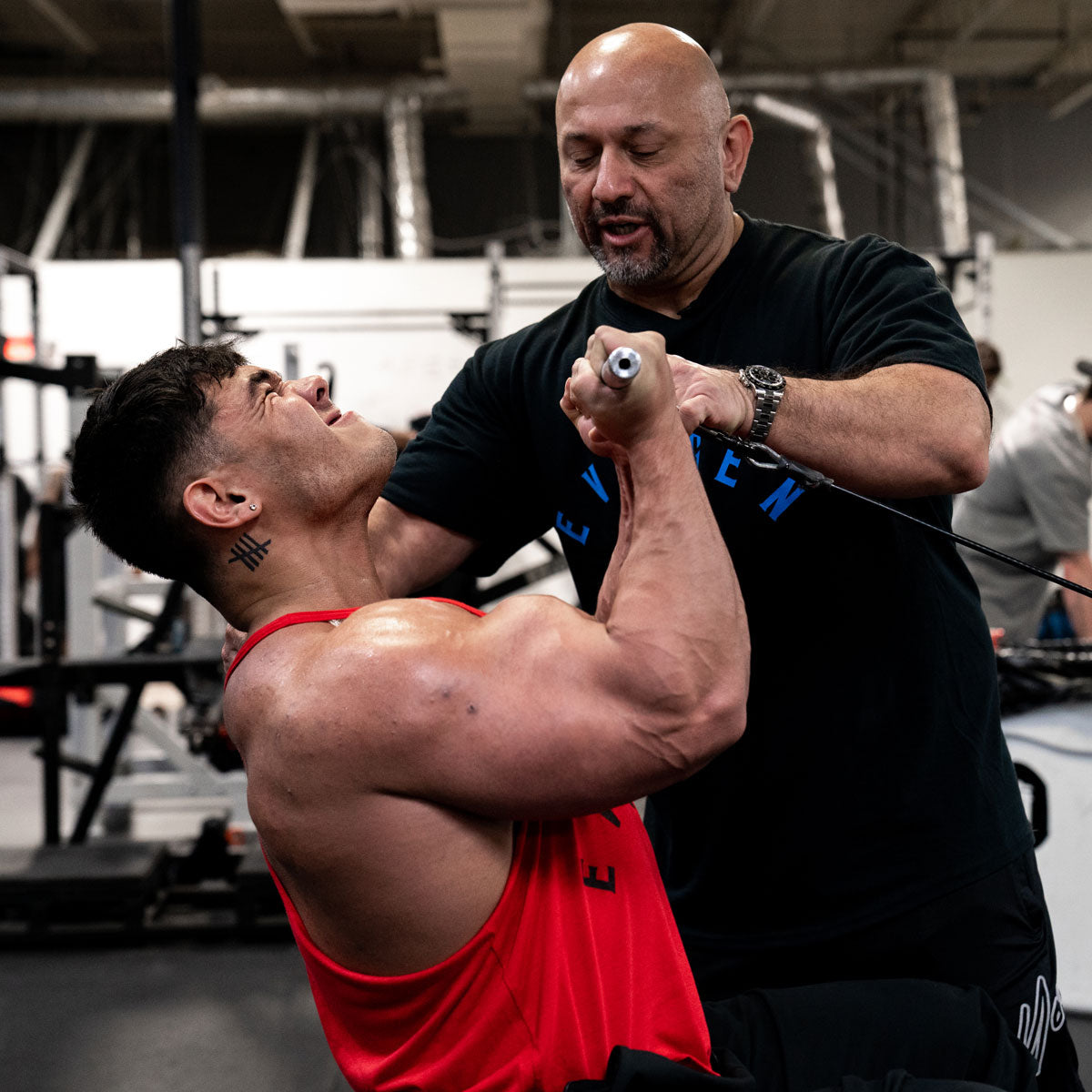 Get-3D with FST7 Arms with Devin Bernardo and Hany Rambod
Team Evogen Elite Devin Bernardo flew in from Canada to do some fine tuning to his physique in the off-season with 22X Olympia winning coach Hany Rambod. If you are not familiar with the phrase "GET-3D" give this FST7 arms workout a try. You'll quickly see and feel what 3D is all about.
Follow behind the scenes at Hidden Gym in Dallas, TX to see what the hype is all about. 
PRE-WORKOUT
1 scoop EVP 3D Grape Cotton Candy
1 scoop EVP Xtreme NO Grape Cotton Candy
1 cap of EVP AQ Watermelon

INTRA-WORKOUT
1 scoop EVP 3D Grape Cotton Candy
POST-WORKOUT
2 scoops IsoJect Peanut Butter Cookie


THE WORKOUT
Advanced tip: Try an intensity multiplier such as a pause and hold for the final 3 reps; or partial reps at the bottom; or pauses at the top; or static holds followed by posing, holding and squeezing. The idea is to break down the muscle to create growth.
Standing Curls (Fixed Cambered Bar)
FST7 Pre-Load Set - 7 sets with 30-seconds rest in between

DB Spider Curls Hammer Grip (Incline Bench)
4 sets x 12-15 reps

Start with 2-3 extra sets to warm up your elbows.
Tricep Rope Extensions (Turn Your Wrists)
4 sets x 12-15 reps
Include drop sets by lowering the weight

Seated Cable Curls (Straight Bar)
3 sets x 12-15 reps
Be sure to stretch all the way back for increased range of motion.
After failure hold at the top for 5 seconds, then 3 partial reps.
After the third set hit a front double bicep pose, hold and squeeze.
Reverse Grip Single Arm Tricep Pulldowns (Handle Grip, Palms Up)
4 sets x 12-15 reps
FST7 Push-Ups (Close Grip, Elbows 
Close grip


Related Article: 5 Ways To Get 3D Arms